Project31 was founded by two-time breast cancer survivor Sarah McLean. Throughout treatment and recovery, Sarah realized that even when the physical damage was healed and doctors said she was "in remission", there were a lot of emotional and spiritual issues that were affecting her relationships, her marriage, and her ability to simply get back to life. Project31 was created to help women who find themselves struggling in the same way. Through peer-to-peer relationships, mentoring, support groups, activities, events, counseling scholarships and more, we are here to provide the resources women and their families need to heal from the scars that breast cancer leaves on your heart.
Sarah's Story
It was September 1, 2002. Not only was it my first wedding anniversary, but it was also the weekend I moved to Oklahoma City from Dallas. My husband, Steve, and I were embarking on a new season of life. We were both eager to see what God had in store. Steve had gotten a transitional job at a local car dealership, and I was hired to work at a local church. Everything seemed to be moving along nicely. We were really settling into living in Oklahoma.
Around January 2003, I was getting ready for work one morning, and I did a breast self-exam in the shower. I had been doing self-exams since I was eighteen because that's what my doctor had encouraged me to do. She wanted me to know what my tissue felt like, so I would know if there were any changes as I got older. I thought I felt something on my right breast but wasn't sure. I figured it was nothing since I was so young… after all, I was only twenty-five.
A couple of months went by, and I noticed the lump was beginning to grow. It was time for my annual visit to the gynecologist, so I scheduled an appointment with a doctor a friend had recommended.
The Journey Begins
The doctor was an older woman. I explained to her what I felt, and she assured me it was nothing because I was too young. I trusted her. She was the professional. I left that day feeling like I was being paranoid or a hypochondriac.
Over the next month, I could tell the lump was continuing to grow, and it was tender to the touch. I started researching cancer online… bad idea. From what I could find cysts hurt and cancer didn't. I convinced myself it was nothing to worry about, but Steve insisted I go back to the doctor for another look. I made him go with me this time.
Stupidly I went back to the same doctor. As we were sitting in the room, I felt so silly. The doctor wasn't very warm or sympathetic. I got the impression she thought I was making a mountain out of a molehill. However, she reluctantly gave me a referral for a mammogram because insurance wouldn't cover it because of my age. She still contended it was probably nothing.
Because she was so insistent it was nothing, I waited a couple more weeks before I made the appointment for the mammogram. The day finally came for my appointment. I told Steve he didn't need to come because I was sure it was nothing, and it was probably just a cyst. As I walked into the imaging center, I was definitely the youngest woman there. I began to feel very uncomfortable. I was a little embarrassed I was actually there for a mammogram at twenty-six.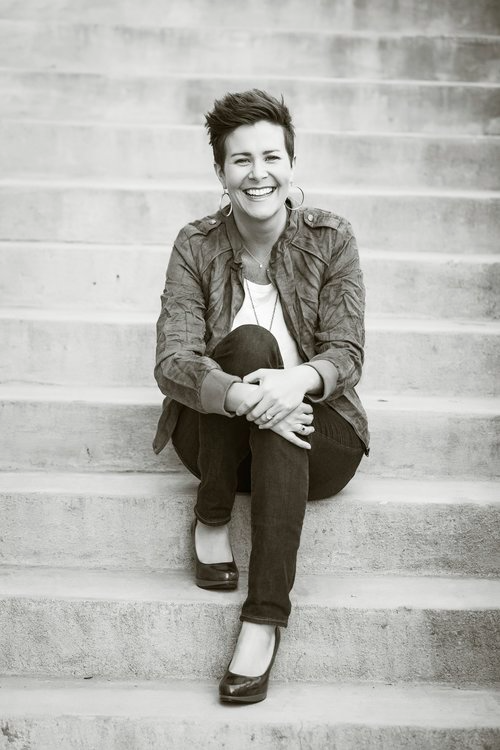 They called me back and showed me to the dressing room. As I sat in the waiting room amongst the other women, I kept thinking, "I'm such an idiot. I can't believe I'm making such a big deal about this."
The technician called my name, and we went back for the mammogram. Afterward, the tech took me to a room and said the radiologist would be in to review the films with me. As I sat there waiting all I kept thinking was he would come in and put me at ease and reassure me, there was no reason to be concerned. I didn't expect to hear what came out of his mouth. He explained he wanted to do a biopsy because the mammogram was showing signs of cancerous cells.
At this point, my mind was on overload. I didn't really know what to think. It was so surreal… everything was happening so fast. I couldn't believe what I was hearing. I thought this really couldn't be happening to me. I was so young. I had only been married for a year. I hadn't had children yet. This wasn't supposed to be something I had to think about. This was something I thought my mom, aunt, or grandmother would be facing… but not me.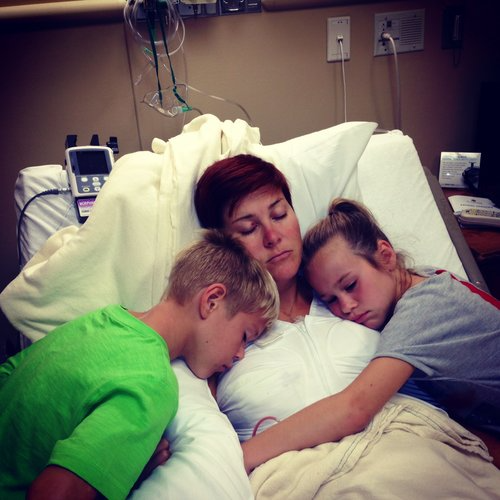 The following day I had the biopsy. Later that day, my doctor called to advise me it was cancer and referred me to a surgeon. In fact, she had already made the appointment for me.
Everything progressed very quickly from that point. The next week I went for a consultation with Dr. Jackson, my surgeon, who recommended a lumpectomy, followed with radiation. He explained while he was in surgery, he would remove the mass and biopsy the surrounding tissue, so he could have it tested while he was in surgery to verify the excess tissue wasn't cancerous too.
By the end of the week, I was in surgery. Afterward, Dr. Jackson came out and explained to Steve he had biopsied the surrounding tissue. Although he couldn't confirm it without the pathology report, he strongly believed the breast cavity was still cancerous. We went home that day anxiously awaiting the call to hear the results of the pathology report.
Dr. Jackson called the next morning. I was home alone, and I'll never forget what he said. He said, "Sarah, it is still cancer. Because of your age, I want to recommend a double mastectomy." He was confident he could get all the cancer with surgery, and I wouldn't have to go through extensive therapy. I could go on to live a long, healthy life. I hung up the phone, and my heart sunk. I didn't know what to think or how to feel. I just sat on my couch, staring at the wall feeling numb. It was so surreal. I couldn't even cry. I was in disbelief.